| | | |
| --- | --- | --- |
| | Experience the full benefits, become a member today! | |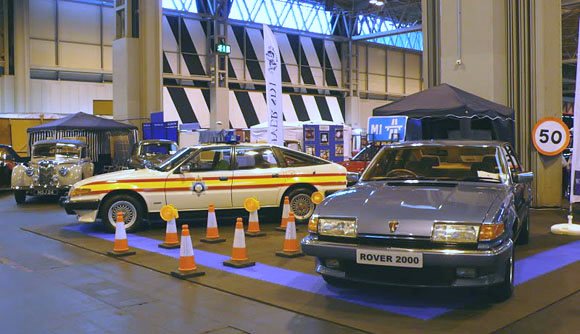 Dave Puzey and Brian Gillham had already loaded up the van when I arrived in Coventry to retrieve the "jigsaw puzzle" that is the Club flooring, from Dave's garage. So off we trundled in 2 SD1s and a van to the NEC. It was all far too easy this year, the SD1s had no work to do at all, and we didn't have to rush because having a van meant we got two hours to unload instead of one!

However, we had a challenge. How to make the SD1 Club look good with a pillar stuck in the middle of our stand? Fortunately SD1s just look good anyway so then it was a case of how do we fit them on? It was a squeeze but as you can see from the photos we just about got them inside our boundary!

A huge "thank you" to Brian for the use of his van, Andy, Matt, Dave and Graham for the loan of their cars for the weekend.

Andy Lawrence (pictured above) purchased this ex Sussex Police 1984 Rover SD1 3500 police car in 2007. The car was originally at Brighton traffic base. This car was used to base the Vanguards model on and has also featured in Practical Classics and TV.
Sussex Police Car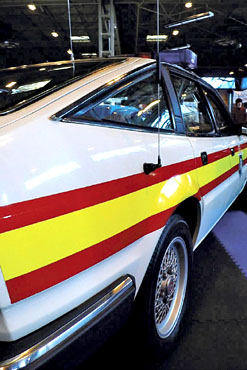 I am especially grateful to Andy for bringing his Sussex Police car as I know the Police Car Club wanted it for their stand. It fitted in perfectly with the theme for the show, which was the 50th anniversary of the motorway. The SD1, especially in V8 form proved a popular patrol car with UK Police forces, and was a particular favourite for motorway patrol duties. Many forces fitted early cars with minilite alloy wheels to assist brake cooling, later production alloys did the job just as well, helped by uprated brakes. Some forces removed the front spoilers too. The 2600 was less popular but was also purchased by a number of forces. Towards the end of SD1 production many Police forces bought up large stocks of these cars very cheaply even though were expensive to run.
Many Police SD1s had cheaper specifications than standard SD1s. A typical Police specification 3500SE would have no sunroof, no central locking, no electric windows, no power assisted steering and rubber matting in the boot. There would be no bright trim on the bumpers nor headlamp powerwash. However the 5 speed gearbox would have been uprated and Vitesse type four piston callipers and ventilated front discs fitted.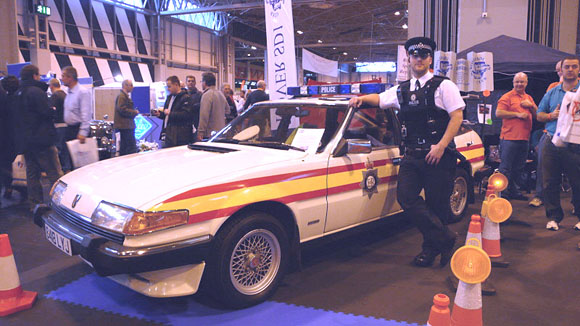 Here is a real Policeman who I apprehended to stand by Andy's car and have his photo taken!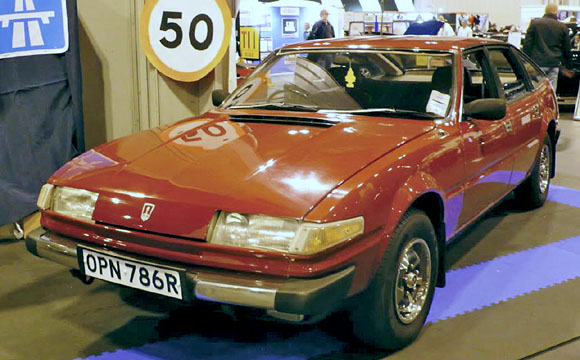 Early Series 1 3500
It was touch and go that Matt Evans made it to the NEC as his lovely unrestored car decided to play SD1 tricks on him only the day before the show, losing all it's brake fluid! Fortunately Matt was able to resolve the problem and we were very glad to see him when he turned up on Thursday morning.

This car is a 1976 Richelieu red 3500 auto; it was built in May 1976 and registered 4th August 1976 with an R registration (almost a P reg!) The car has had no restoration work carried out on it. The only thing that Matt has added is a modern radio/CD & Speakers (although he still has the original MW/LW radio).

This SD1 has just less than 31,000 miles on the clock. (Bet it was more by the time he got home again, Matt came all the way from Cornwall!) Matt is the 4th owner and has owned it for a little over a year. He has done about 3,500 miles in it in the last year but it does not get used every day. He prefers to take it out about once every other weekend for a run of maybe 100 miles or so. Matt tries not to take it out in the rain, if it can be avoided..... so how he can claim it doesn't leak I don't know!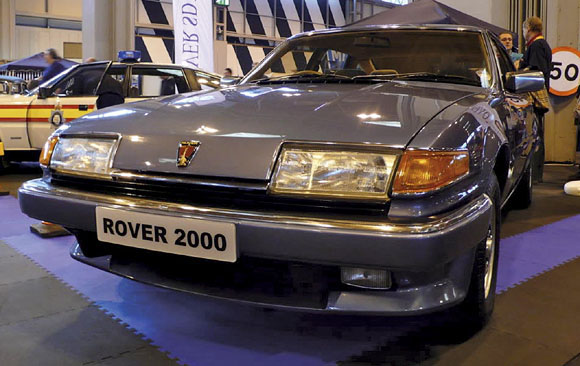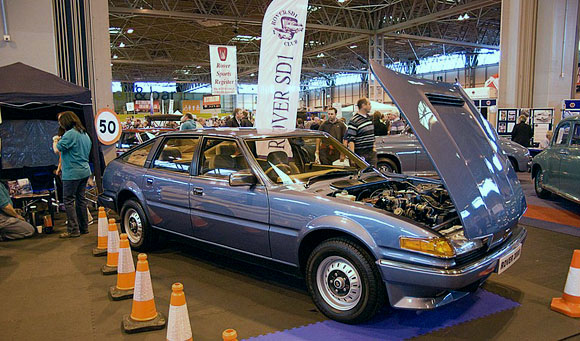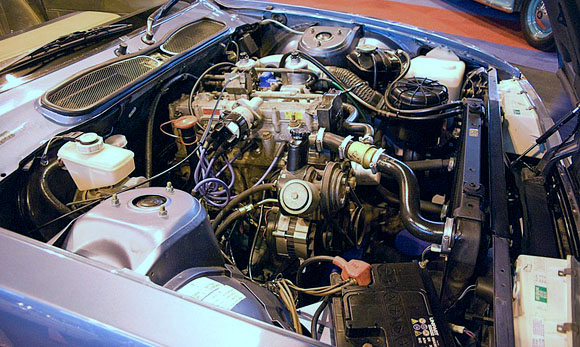 Series 2 2000
Dave Knights Rover 2000 attracted a huge amount of gobsmacked attention as we put the bonnet up, and like Hoppy's 2300 the year before, it was never without a few heads peering in, and attracted numerous compliments. It is a credit to Dave who has spent a huge amount of money keeping the car a 2000 where others may have stuck a V8 in it.

The car was first registered in April 1983. It had one previous owner who passed away in 1999 so his wife took ownership of the car. The car did not leave the garage for 10 years until he brought it in September 2008 off eBay for £400. It was then delivered to and this was the first time he had seen it. Some mechanical work was needed and a respray. The car's first outing was to Rimmer Brothers for the SD1 Club Spares Day. Dave drove up the A1 sitting at 70mph. she drove very well with plenty of acceleration when needed! Once there, the car got lots of attention and an invitation to the NEC! This car is not totally standard, Dave has added a front deep chin spoiler and the bumpers have been colour matched. Inside he added rear headrests and a push button radio cassette player which his dad had in his 2000, a step up from the standard radio.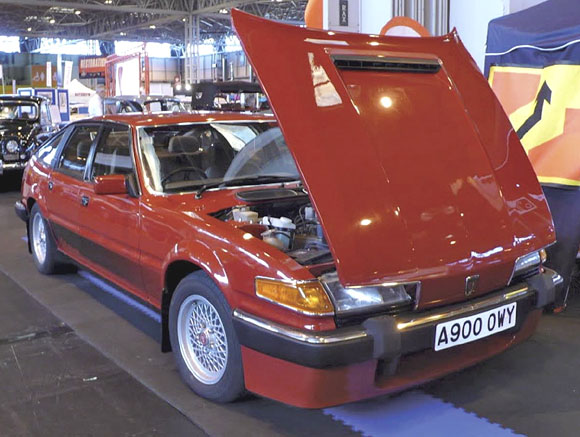 Series 2 Single Plenum Vitesse

It is usual club policy NOT to use committee member's cars on the stand at the NEC. However Graham was due to show his car at the NEC in 2008, He first approached me in the early part of 2008, long before he became shackled to the membership secretary's job! Due to space restrictions (I had too many cars in 2008) I promised he could show his lovely Monza red Vitesse this year instead.

Originally registered in April 1984, Graham bought the car in February 1999. It had been previously owned by his father for about 6 years When Graham bought it there had never been any welding done to the body and it was generally sound. For the first couple of years it was used as an everyday car. In 2000 it went on a trip to Berlin. Vitesses don't ride well on East German cobbles! By the time he got back to Holland the diff was whining so much it hurt your ears! To remedy this problem a very poorly 2600 auto donated its diff in 2001, and the whole rear axle was rebuilt with new brake cylinders, drums, etc. In 2002 disaster struck with the driver's door becoming completely jammed shut. The final remedy was to take the plasma cutter to the outside of the door, cutting an access hole to get to the lock mechanism. Fortunately the door was so rotten it needed changing anyway, so another part was donated by the 2600. Not too much happened to it for a couple of years, but by 2004 Graham decided some serious work was required, so the front wings were removed, and the inner arches repaired. This was before the Rimmers India stock became available, so there was little option but to use their repair panels, which needed significant re-profiling to make them fit well. The new front wings then went on and the rear ends of the sills were plated. Had he waited a few months he would have been able to obtain original panels at sensible prices for all of these jobs! At this point Graham chickened out, and in an effort to get the car finished properly in a sensible timescale decided to get a local bodyshop to fit the rear wheel arch repair panels, replace the doors and the tailgate, and paint it. This included the Jaguar XJ6 series 3 sunroof panel, which it turns out is interchangeable.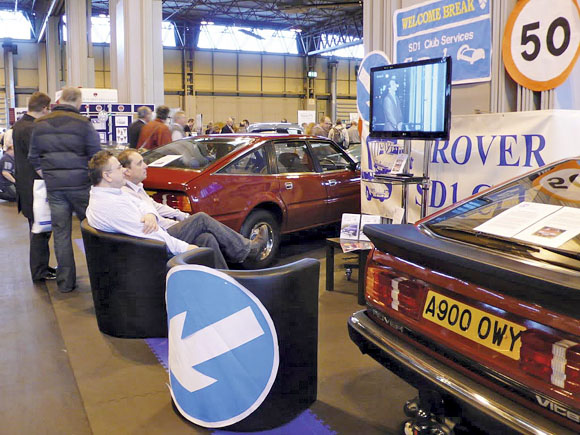 The club screened video action of SD1's, providing some relaxation time and a chance to rest those weary feet.

Proved very popular with many visitors to our stand.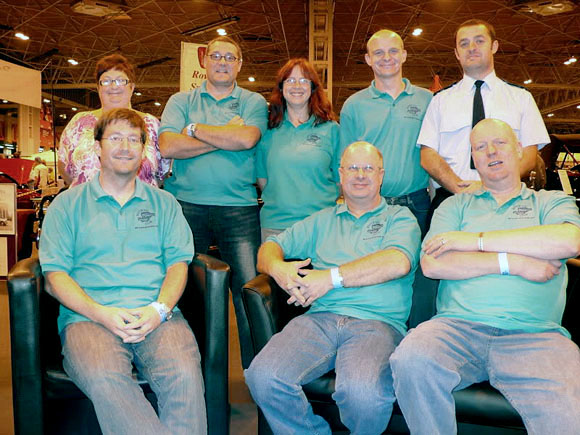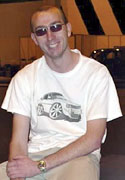 Finally I must thank the usual hardcore group of helpers, Dave, Stuart, Gareth and Mark.

Oh and I shouldn't forget Kev Clark who we found in the queue outside and who was duly kidnapped! He stayed to the bitter end and helped us clear up. Some say it was because Mark made him spend all his money on club calendars and he couldn't afford to go home again.

Sally Sheldon
Club Activities Coordinator

Rover SD1 Club 2009