Friday morning we were all eager to get away and down to the pits to view the race cars being prepared in the garages, most attention seemed to be on the Aston Martins, very beautiful they looked too.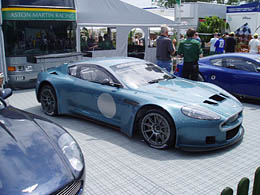 Our hopes were pinned very much on them giving us something to cheer about and a win in their class looked on the cards if lap times were anything to go by. We followed in tow as Dave guided us through the vast network of hospitality suits and stalls, you name it – anything motor racing related was on sale. A must at the circuit is to view the campsite where the majority of Brits, like sheep herd themselves together in a campsite built truly on epic proportions, every conceivable comfort brought with them, paddling pools, drinks bars, sofas, coffee tables and all competing with each other to build the biggest beer bottle mountain.

The route back to our campsite, about 8 miles from the circuit, included an irresistible diversion down the Mulsanne straight, normally a public road, the circuit is over 8 miles long and 2/3rds of it is on roads normally open to the public. We were able to continue round the Mulsanne Corner and on to Arnarge. We didn't need to persuade Dave, I'm sure he was itching to 'floor it' - only thing is the French police were swarming like flies just waiting to catch any boy racers exceeding 60 mph.
The French organisers certainly know how to stage an event, the big day started with last minute warm up for the cars, then onto a 'Legends race', with Johnny Herbert romping away in a D type Jag to an emphatic win. Then proceeded what seemed hours and hours of displays, national anthems, car advertising, processions – flag waving and interviews all in French, not forgetting the Hawaian Tropic girls. I'm not sure which was the loudest, the race cars or the tannoy, unfortunately I didn't understand a word of it.